Sarah over at
Thrifty Decor Chick
is having a Goodwill Party and I just had to share my latest find.
There is a Goodwill store pretty close to work, so about once or twice a month I'll spend my lunch hour looking for treasures.
I stopped in a few weeks ago and spotted an antique-looking dresser. I tried to act all noncholant as I walked over there as fast as I could. I almost did a happy dance right there when I saw the price tag...$50! I gave it a good inspection, tried all the drawers, did the "sturdy test" by grabbing the top edges and giving it a good shake to see if it would wobble. It was a good solid piece. Woo hoo! I was in love! This baby is coming home with me!
Here it is in it's new home in the boys' room:
I've been looking for a dresser for their room for months and am so happy with this one! I love the lines and detail. I haven't decided what kind of makeover to do on it yet, so for now I'm just going to leave it until inspiration strikes.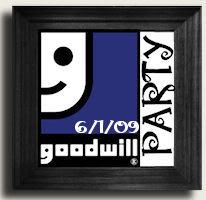 Head on over to check out all the other Goodwill goodies!